Google Search Engine Got Sucks – Showing UN-Ethical News about Indian PM
We all know what is Google and without Google, we can't imagine our life. Because, If we need to know anything about a new thing then we used to type our doubt on Google.com and we find all details.


Google is now facing the real mesh with their search engine algorithm and it's one of pathetic example is the latest news about the India prime minister news.
You just type in Google "World No 1 Criminal" or "World Top 10 Criminal" and you will see a pathetic result of Google. It shows how their team is working on their search algorithm. By the way, the make apologies from Indian Government,  But still, this news is flash on top of the Google and Google is not doing anything about that.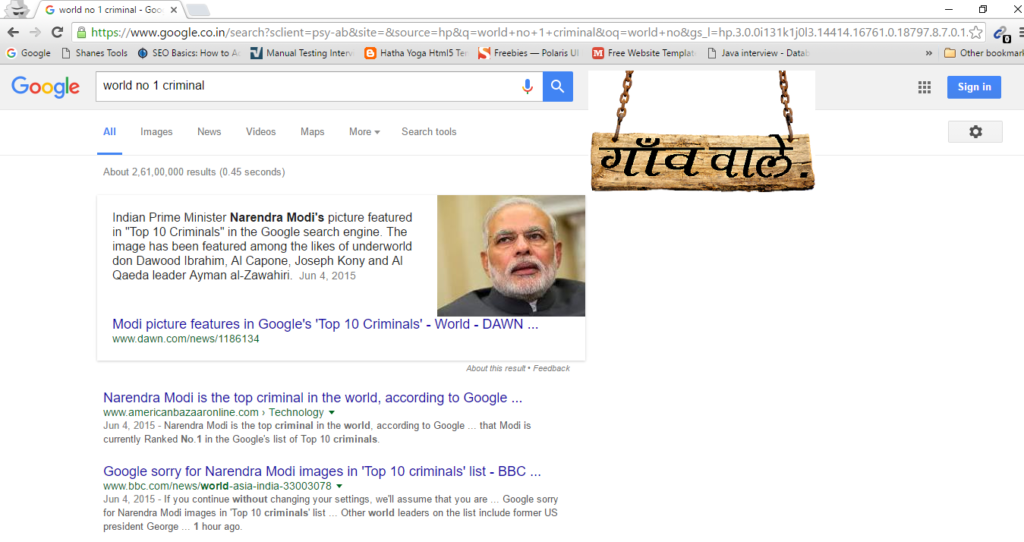 Now here is fact if is happened for U.S.A gov then what they gonna do, But India Gov is not taking action about this. But, If you do analysis and think about this news then this is a very big issue for any Country reputation Because  P.M is our most valuable person in any country and if any got such kind of news in search engine then what the rest reputation left for that country.
In past, there are some country like China, Cuba, Iran, North Korea, Sudan, Syria, Pakistan and almost all Arab countries banned Google and crime to use it. If Google will not solve these types issue than more name will add in ban list.
So, India gov should have to take an action against about the Google for that unethical news and showing the result on the top with our reputation Prime Minister of India, Respected Narendra Modi , And we all know about  Our P.M capability and their work ethics For more details about our Respected P.M you may read here: The Modi Effect: Inside Narendra Modi's campaign to transform India .So, I request you to all kindly share your opinion and point of view, What kind of action should Indian Government takes against Google.
And one more thing, Should we trust on Google search result onward. Or this is only for criticize the target country such as India. Google should have to do about this news and search appearance as soon as possible. So, Kindly share your opinion through the comment and let us know, what should India Gov. Should do about this. Thanks.
Comments
comments