Business with Social Cause Makes You "KHAAS"
Business with Social cause makes you "KHAAS" :

One incident not only changes the life of person, its change the life of society. The story based on one visionary man, Akash Bhardwaj 'KHASS' founder, idea for visually impaired and acid attack women. Delhi local boy start one travel and tourism company called KHAAS with one social initiative; they hire blind and acid attack women in startup.

KHAAS established in 2012 and provides services all our  the world except Europe. They offered many services include Corporate, School & College Trips, Honeymoon Packages, Adventure tour, family tour, pilgrim tour and many more. They have two branches in Delhi and want to increase more in other city.
The organization set one goal, hire around 100 blind and acid attack women in Delhi as well as other city. Because KHASS Believe they have good spirit and lots of energy to work but they don't have platform to prove.Read more about the women empowerment at: One Indian Girl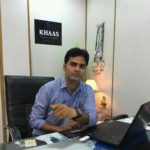 Mr. Akash, managing KHASS as founder says "They are not looking for sympathy – they just want to crack the deals based on their hard work."
KHASS is miracle for acid attack women, who fully disturb and loss faith of life. "I am extremely proud and happy with my jobs at KHASS. I love the organization with all my heart because this is place I have learnt many new things. I believe that KHASS and Akash Sir will change my future and I will remain grateful to him forever," says Dipti, a KHASS employee.
I think success story about KHASS, inspired young generation, who want business with social work. These types of thinking and initiative change the society view about acid victim women.
You can contact Akash for  your contribution and help https://in.linkedin.com/in/akash0702
Comments
comments