Puerto Rico's Stephanie Del Valle Won the Miss World 2016 Crown
Stephanie Del Valle of Puerto Rico was delegated Miss World 2016 on Sunday, pushing out runners-up from the Dominican Republic and Indonesia winning the top prize in the 66th version of the event held for this present year in the United States.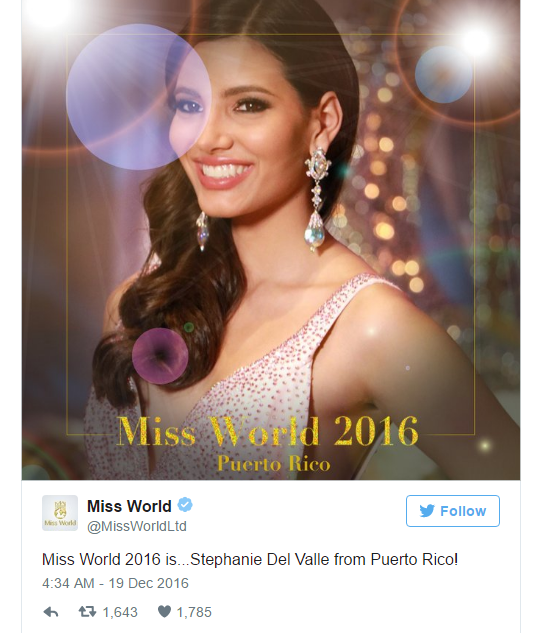 Stephanie Del Valle, a 19-year-old understudy from Puerto Rico, was delegated Miss World in a splashy function Sunday at the new MGM National Harbor.
The challenge was directed by Megan Young, a previous Miss World who has nearby ties — conceived in Alexandria, she spoke to the Philippines in the event, and in this way turned into a tremendous star in that nation. Del Valle's win was a major bombshell for the group top pick, Catriona Gray of the Philippines, who made it to the main five.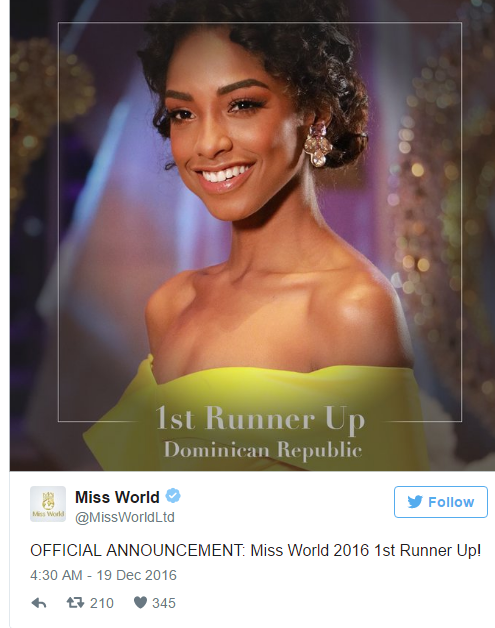 Yaritza Miguelina Reyes Ramirez of the Dominican Republic was first runner-up, trailed by Natasha Mannuela of Indonesia. Our own Miss World America (yes, that is an alternate show from Miss America) Audra Mari of Fargo, N.D., made it to the main 20. What's more, Miss World Canada Anastasia Lin never had a shot — however she stood out as truly newsworthy for taking a stand in opposition to human rights mishandle in China, she butted heads with coordinators all through the expo and was consigned to the back line for a portion of the move arrangements.
Summary of Miss World 2016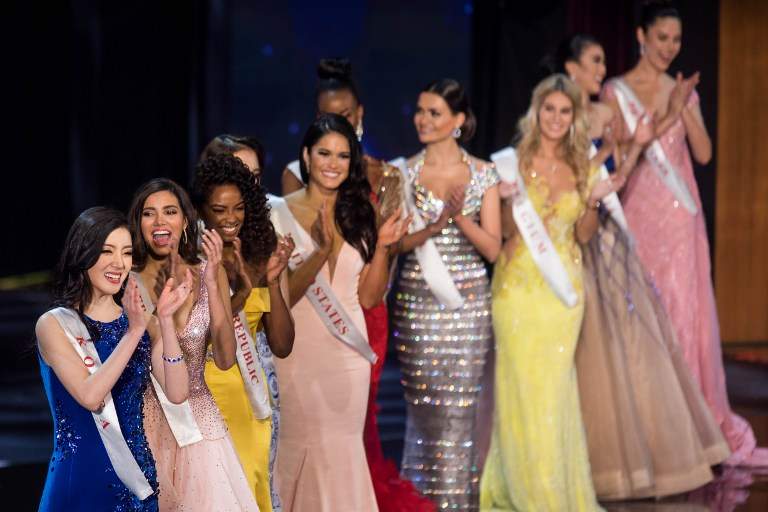 Top 5
Miss World 2016: Puerto Rico
2nd Place: Dominican Republic
3rd Place: Indonesia
Kenya, Puerto Rico, Indonesia, Dominican Republic, Philippines
Top 10 
China, Kenya, Belgium, Philippines, Indonesia, USA, Korea, Dominican Republic, Brazil, Puerto Rico
Top 20 
China, Kenya, Belgium, Ghana, Philippines, Cook Islands, Mongolia, Indonesia, France, USA, India, Slovakia, Korea, Hungary, Dominican Republic, Japan, Brazil, Thailand, Australia, Puerto Rico
Fast Track Winners:
Top Model: China PR
Sports: Cook Islands
Talent: Mongolia
Multimedia: Philippines
Beauty with a Purpose: Indonesia
Comments
comments