Rush to Go Out From India to Make Money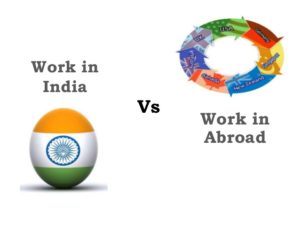 We all know very well our India and the mentality of Indian.Everyone specially those are working in IT firm has the dream to go out station to make money, not for the job as well as we also try to go out for better education.
But Facts is, As per Harward as business research India is biggest marketplace around the world and the maximum country has first choice to do Business is India (Biggest Example is Amazon India) and we are just moving out.
As per example i am going to mention some successful business:
Paytm
Flipkart
Myntra
SnapDeal
and more ..
Pros and Cons:
We do not want to hustle.
To make impression on society as well as around your people.
Get better respect.
To make Hypes.
No one watching what you are doing. Whether you living in worst condition to save money or sacrifice your life.
Facts:
You loose your relationship that's all matter.
You went out from your faithfully and caring person such as parents, friends .
Got Frustration.
Become possessive person.
Always criticize India instead of making some try to change their environments.
Come with wired culture, Such as forgetting to do respect of others and friends etc.
Comments
comments