Super Foods For Slimming Down
Slimming super-foods are actually meant for building bones, prevent chronic ailments, improve the eyesight as well as keep an individual's mind sharp other than helping in getting and staying slim. Here is the list of 25 foods those can help you to lose weight and slimming down your body.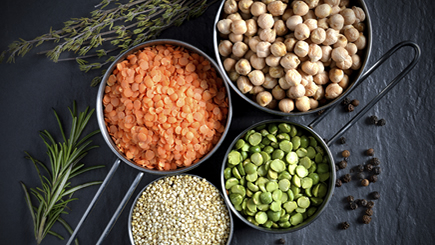 Black beans: A cup of black beans is a great slimming down food as it has no saturated fat around but a whopping 15 grams of proteins unlike other sources of proteins like red meat.
White beans: White beans is too a one of the food that can help you to loose weight and slimming down your body. One cup of white beans has four grams of resistant starch as well as fiber.
Kidney beans: Offering over 5 grams of protein and fiber per serving, kidney beans can curb weight problems and slimming down. This food is loaded with resistant starch, where a half a cup carries about two grams of these healthy carbohydrates.
Avocados: Avocados have the right kind of fats. They have oleic acid (monounsaturated fats) that makes our bodies quiet hunger. Also, this fruit has a lot of fiber as well as protein. So this food too can help in slimming down.
Pears: A single pear is all you need to get 15 per cent of fiber recommended in a day. Studies have revealed that the women who consume three pears in a day lost more weight compared to those who did not. Do not peel the fruits, most fiber is found in the skin.
Lentils: Lentils are an excellent source of protein and fiber. They help you feel satiated for long. The resistant starch contained in them also accelerates the rate at which the body burns fat and help you to lose your weight.
Garbanzo beans: These are also known as chickpeas. They contain resistant starch as well as fiber, healthy fats and protein which would help in slimming down and losing weight of your body.
Blueberries: Blueberries are widely known for their anti-aging effects. A cup of these tiny fruits contains only 80 calories that help you feel full for a longer duration which would be helpful for losing some of your weight.
Bananas: A medium size, slightly green banana fills up an individual and aids in metabolism. A ripe banana too ranks high in resistant starch content. Banana is a great food for slimming down and can give a good shape to your body.
Oranges: An orange has about 59 calories only as well as fiber. The fiber keeps you full for long making you eat less in a day and a great way to lose your weight and a great food for slimming down.
Grape Fruit: Without even changing anything in your diet, taking a half of a grapefruit before every meal helps in weight loss. Grape fruits lower insulin hormone making it impossible for your body to store too much fats. Grapes as food are also rich in protein.
Wine: Studies reveal that moderate wine drinkers have skinnier waists compared to liquor drinkers. A glass of wine can boost an individual's calorie burn for about 90 minutes.
Broccoli: Whether raw or cooked, broccoli helps in preventing cancer. This cruciferous veggie food also has a punch a lot of fiber but fewer calories. Thus, it can prevent weight problems as well and help you in slimming down.
Brown Rice: Compared to white rice, brown rice is heartier and packed with more fiber. A half a cup of this has 1.7 grams of resistant starch. Also, it is a low energy density meal: this food is filling but low in calories and helps in reducing your weight.
Oats: These are rich in fiber and thus make you feel full all day. A half a cup of oats has 4.6 grams of healthy carbohydrates that boost metabolism as well as burns fat and help in losing some of your weight.
Pearl barley: This is a starchy slimming complement of a low calorie meal. Just a half a cup serving yields about 2 grams of resistant starch as well as fiber.
Potatoes: These are high in carbohydrate content. They are 3 times filling compared to a slice of white bread. This food too contain resistant starch that aids in the burning of fats and slimming down your body.
Green Tea: Just like water, green tea hydrates the body. The antioxidants that come along with it also increase the rate at which the body burns fats. Drinking green tea can prove as a great way to reduce your weight and give a good slimming shape to your body.
Salmon: Lean sources of proteins like the salmon help you stay full without necessarily adding fat. They contain a lot of monounsaturated fats too. Salmon is great food for those who want to slim down.
Eggs: These are best for breakfast. Eggs are rich in proteins which help in keeping your appetite under check.
Cheese: Fresh goat cheese, as well as feta, has fatty acids that help an individual feel full for longer and help in managing the weight.
Low fat milk: The fatty acid found in milk as well as proteins help an individual keep feeling satiated. Low-fat milk also has a lot of calcium good for your health.
Dark chocolate: Dark chocolate is known for slowing down digestion and thus helping you feel full longer. It is also full of monounsaturated fats that rev up the process of burning fats in the body.
Almonds: Nuts too, particularly almonds help in cutting extra weight. Individuals who take them daily alongside a low-calorie diet stand greater chances of losing more pounds.
Pine Nuts: Apart from almonds, pine nuts have the heart-healthy fatty acids which quell hunger hormones as well as help in burning the belly fat.
Comments
comments