See the Partiality of Paypal Services in India
PayPal is one most admire U.S.A based company that Founded in December 1998, at Palo Alto, California, United States and it's CEO is Daniel Schulman. And it's Headquarters in San Jose, California, United States.


PayPal is one most admire and popular payment getaway for the foreign transaction for your work. Maximum freelancer as well as corporate has been used this payment getaway for the transaction. But they have the different rule and regulation for all countries that has been very pathetic. I giving you an example. I am starting a website that about to NGO and donation camp, So for that, I used to make donation button in PayPal. But when I got that button I am not able to create that button.
So, I contact one of the support team members of PayPal for regarding this issue and ask for the solution. But in the manner, I got the response is really pathetic.  They told me that Donation button is not applicable in India. It is only available for particular countries such as U.S.A, Australia and some more. You can see the image i got, I hide my name and that support member.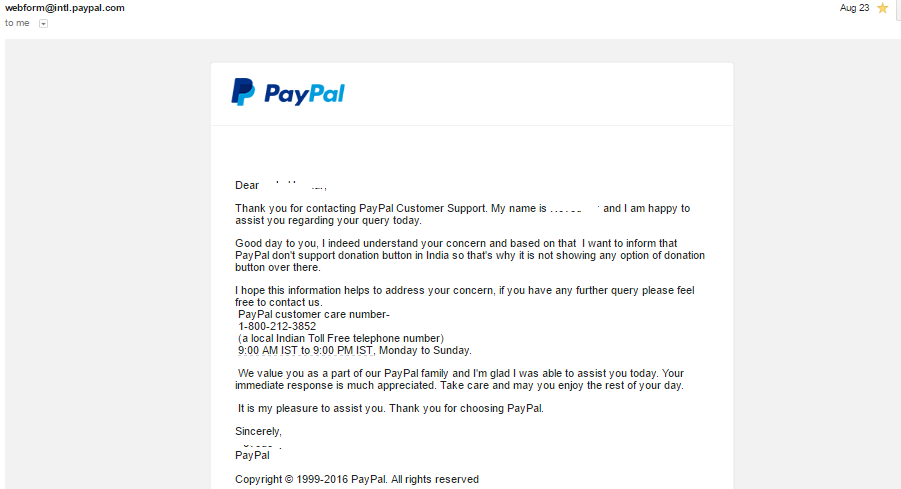 Once, I got this mail then I ask there is any alternate method for that resolve this problem and to put donation button. Because in India PayPal Merchant only have Shopping button and Business button. Means only to make money nothing else.
So, I make an email to support team, why such kind of rule for India? Does PayPal not doing good business in India or they don't have to trust on Indian. So at least give some alternate method to do this. But as-is usual I did not receive any response from their side instead of response I got mail how much you rate our customer support services. It pathetic men. Not even with PayPal as well as all U.S.A based payment getaway, affiliate channel and advertising channel also have the same issue.
So, I request you to all give you feedback in the comment section about this, Why they don't give us the priority as they gave others countries, But at the time of business they all have the first choice is India to improve their business.
Comments
comments